The Role of Adult Education
Did you know that there are 36 million adults that can not read or write at the fourth grade level?  Low skill levels are a fundamental barrier to every major challenge facing the United States.   This video is a wonderful resource to show the role and impact of Adult Education.
Greetings Iowa Literacy Council Members,
It is amazing to see all the trees looking so beautiful while knowing what is coming our way sooner or later. I am not a fan of Winter, but we must get through it to get to Spring.
Isn't that true of many things in our lives? We may need to get through challenging times (learning a new subject, meeting new students, understanding how newcomers are coping, and so many other challenges we face in our field) to get to the point where we know fully what we are doing and that we are truly helping others.
There are 4 stages of any new experience: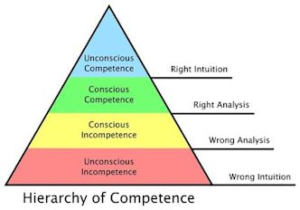 Think of something you are learning and what stage you are at right now. By spring, you could be well along in this learning model.
Coming soon – Winter Conference (Jan. 31 and Feb. 2 – Virtual), membership renewal in the Iowa Literacy Council (March, 2023), Summer Conference (June 28-30). Before we know it, these important events will be here. Until then, learn, enjoy, have fun, stay safe and healthy.
Dr. Helene Fein
Executive Director
Iowa Literacy Council